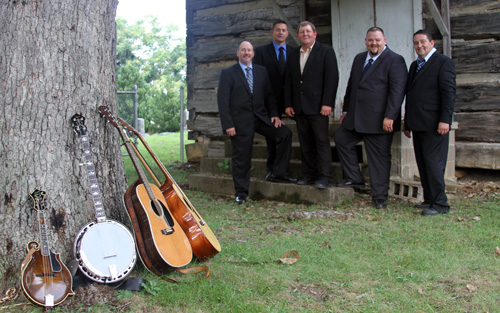 By: Kevin Kelly
When John Cardwell began picking string instruments in his brother Perry's living room more than five years ago, he had no expectations other than to enjoy the music.
What happened instead was the creation of a bluegrass band that deepened the Christian faith among its members, who have become like family. The regional fame and recognition have been a nice side effect.
"I never dreamed that when we came out of that living room, we'd travel as much as we have," Cardwell said of Open Rail, the group he co-founded with his brother and Perry's longtime friend Roger "Pup" Harrison, who is a Buckeye Rural Electric member. "I don't know what the life of an original band is, but I am very happy and pleased this band has been together for so long."
"This band is the first that I can honestly say I've been in, and I've played almost 40 years," said Roger Bissell, who joined Open Rail in 2013 and quickly felt at home with the group's dedication to its music and core audience.
Cardwell performs vocals and plays mandolin, while Harrison is also a vocalist and a guitar virtuoso. Bissell, from Coolville, is a bass player and singer. Brian Ison of Beaver is tenor and guitarist, and banjo player Don Titus of Ripley, W.Va., rounds out the group.
Although Open Rail is billed as a bluegrass band, gospel is a primary ingredient in its repertoire, which speaks to the faith of each of its members. It is that faith that not only fuels the harmony they create, but also their own personal relationships.
"We're very blessed to be together for so long," said Bissell, noting the difficulties in working day jobs and meeting family responsibilities while pursuing a musical avocation. "We all have families, and it's tough to do it, but we are Christian men."
The group's own preference for the established sound of what was once dubbed "mountain music," the ancestor of country, has taken Open Rail to gigs in Kentucky, Indiana, Michigan, the Carolinas, Tennessee and Virginia, and to such prestigious stages as Renfro Valley.
Bluegrass's origins have been traced back to the 17th Century, as reported in a history provided by the International Bluegrass Music Museum in Owensboro, Ky. As English, Scottish and Irish families pushed south and west into new and mountainous territory, they brought with them the music of their homelands. The songs they sang, with the aid of mandolins and fiddles, reflected their everyday lives and the abiding faith that saw them through many hardships in taming the new land and making it productive.
The form of music that became known as bluegrass was established by the mid-1940s through the efforts of Bill Monroe, a Kentuckian who named his band The Blue Grass Boys in deference to his native state's nickname. Since then, bluegrass has remained true to the sound of its pioneers.
The differences between bluegrass and gospel are few. As Open Rail's members will tell you, faith-based songs are an easy fit in their musical offerings, and while bluegrass gets Open Rail on many stages, gospel is just as important. "You still get to be a witness," Bissell said. "I think this band has a good grounding in the Lord."
And from the standpoint of becoming a skilled musician, bluegrass is an education all by itself. Use of acoustical instruments and improvisation provide players with a versatility that extends to country and other popular forms of music.
"If you can do bluegrass, you can do it all," Titus declared. "Another thing about bluegrass, I love it so much, I don't want it to die."
With so much crossover of country into rock and vice versa, "your fan base gets to the point where they want to hear that traditional sound," Bissell added. Bands like Open Rail keep the tradition alive, even while writing new music.
Open Rail is noted for its originality, derived from the players' experience and a natural talent for songwriting. Harrison gets the credit for that, but he modestly says he doesn't know how he does it so easily.
"We're very fortunate in this band with Pup being such a tremendous writer," Bissell said. "We're beginning to have an Open Rail 'sound' because Pup has written it. He once did a song about the change of season by just looking at a garden. It inspired him to come up with the song in about nine or 10 minutes."
"When you take songs like his, you can visualize what he's saying," Bissell added. "It has meaning, and that's important to people."
Open Rail has produced four CDs, two devoted to gospel with the most recent, "Sunday Morning," released on Oct. 19. Tunes like "Take It to the Cross," "Angels Watching Over Me" and "The Last Long Mile" are evocative of the group's attention to the spiritual needs of its listeners.
And what does the future hold for Open Rail? More outreach to an expanding travel schedule as its reputation grows.
"In 2013 alone, there have been over 40 weekends that we've been on the road," Titus said. "One Saturday, we were performing in Lansing, Michigan, and then over to a date in Milton, West Virginia — we've been a lot of places."
More information about Open Rail is available at www.openrailbluegrass.com. Reach the band at 304-512-9058, openrail@ymail.com, www.facebook.com/openrailbg.