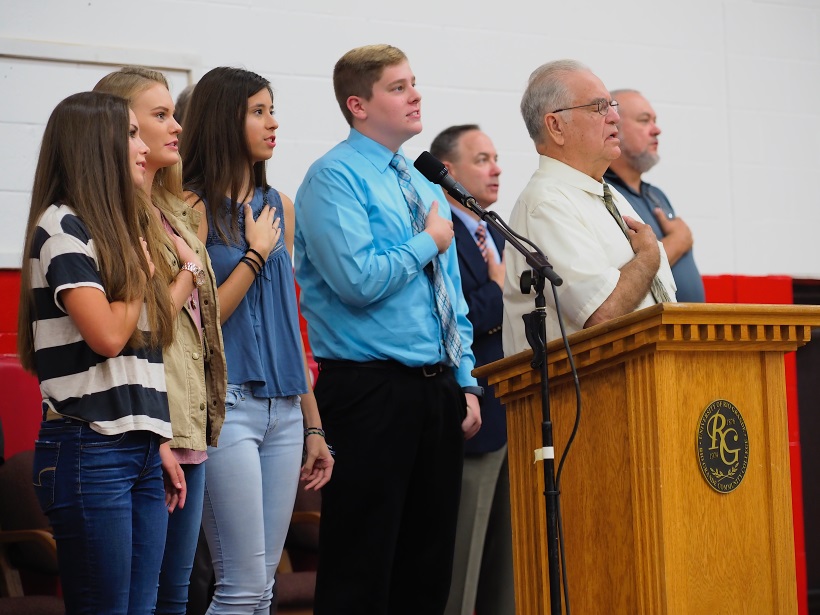 Rio Grande, OH—With more than 900 in attendance, including 560 member-consumers, Buckeye Rural Electric Cooperative (BREC) held its 80th annual member meeting at the University of Rio Grande Lyne Center on August 11, re-electing board of trustee incumbents Dennis Blakeman (district III—Jackson County) and Bill Holcomb (district IV—Athens, Meigs, and Vinton counties). Jim Herrell was elected to represent district I, narrowly defeating incumbent and board president David Lester, who had served on the Buckeye Rural Electric Cooperative board of trustees for 30 years.  Results were tabulated and verified by Wellston-based law firm Oths, Heiser, and Miller.
The cooperative also announced recipients of its 2018 scholarship outreach program:
Bailey Ward ($1500) of Oak Hill High Schools will attend The Ohio State University to study biology. Ward was also awarded an additional $1200 scholarship from the Ohio statewide electric cooperative association.
Bethany Purdum ($1200) of Gallia Academy High School will attend Marshall University to study medical imaging.
Rachel Goodall ($800) of Jackson High School will attend Liberty University to study biology.
David Holschuh ($1500), recipient of BREC's inaugural technical scholarship, will attend Bridge Valley Community & Technical College (Charleston, WV) to study advanced manufacturing technology.
BREC also recognized Haylee Pratt of Chesapeake High School and Laryn Gannon of Symmes Valley High School, who represented the co-op on the 2018 youth tour to Washington, DC.
Buckeye Rural Electric Cooperative Executive Vice President & General Manager Tonda Meadows explained that, in 2017, the organization built an Athens-area substation to replace a temporary delivery point that had been in use for years; rebuilt weakened and heavily loaded lines and added protective devices to improve service reliability; and installed equipment that enabled the re-routing of service to alternate lines during outages or the performance of maintenance.
Meadows further cited the cooperative's deployment of a two-way automatic communication system (TWACS) for member meters, which provides load information and monthly kilowatt use; the clearing of 135 miles of transmission lines via the removal of 664 trees; the refinancing of $36.4 million of debt; the saving of $5 million in future interest payments; the decline of kilowatt-hour sales and the subsequent reduction of $1.2 million in revenue as compared over the past decade; and an increase of 3.24 cents per kilowatt hour, per consumer, for an average upsurge of 68 percent since 2007, largely due to the investment of a combined $1.5 billion in  environmental controls at the Cardinal Power Plant, as well as at the Kyger Creek and Clifty Creek plants in Cheshire, OH, and Madison, IN, respectively, of which Buckeye Power, the generation and transmission arm of Ohio's Electric Cooperatives, is joint owner.  The reduction in kilowatt hour sales, however, was mitigated by a decline in power demands by BREC members, or approximately $500,000 less in generation costs.
In 2017, BREC refunded $1.5 million via the disbursement of the return of profits to members.
Craig Grooms, vice president of engineering & operations for Ohio's Electric Cooperatives, stated that 2018 marked a milestone for the Ohio electric cooperative system, as it assumed management responsibility for Cardinal Power Plant, the network's Brilliant, OH-based, 1800 MW power generating station, as well as natural gas peaking plants in Van Wert and Greenville, OH.  Grooms further stated that all electric cooperatives within the state's 24-member, not-for-profit network are working on multiple transmission projects with other utilities to bring more reliable service to Ohio electric cooperative consumers.  Finally, Grooms said that Columbus-based Ohio's Electric Cooperatives provides funds to economic development agencies as incentives for commercial industries to locate within electric cooperative territories; has its expanded line worker training program to assure safe, up-to-date practices for frontline employees; continues to train co-op staff according to best practices; works with state and local regulators to advance legislation that affects co-op members; and is aligned with transmission grid operators to ensure fair and reasonable market rules and operating guidelines.