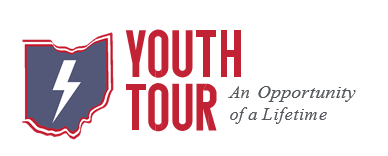 What is Youth Tour?
The Ohio's Electric Cooperatives Youth Tour is an annual leadership program sponsored by Buckeye Rural Electric Cooperative. It's a weeklong, all-expenses-paid trip to Washington, D.C., that gives exceptional high school students the opportunity to meet with their congressional leaders at the U.S. Capitol, make new friends from across the state and country, and see many of the famous Washington, D.C., sights.
To apply for the Youth Tour:
Successful applicants:
Must be a high school sophomore, junior, or senior.
Must be a son, daughter, or legal ward of a Buckeye member living on the cooperative's lines and receiving electric service from the cooperative at the time of selection.
Must submit an application along with grade transcripts indicating cumulative credit hours and grade-point average.
Must submit a letter of recommendation from a guidance counselor, principal, teacher, or community or organization advisor.
Applicants will be required to take a test consisting of true/false and short essay questions about electric cooperatives.
Application deadline: Saturday, March 5th, 2022
Applicants will receive the information necessary to study for the test when their application is received.
Please Note:  Youth Tour 2022 is subject to change due to the ongoing COVID-19 pandemic. Ohio's Electric Cooperatives and the National Rural Electric Cooperative Association are continually monitoring state and federal guidance and will adjust plans accordingly if needed. This year's program is being coordinated with the healthy and safety of delegates, chaperones, and their families foremost in mind.
For more information and to apply, visit www.buckeyerec.coop/youthtour  or call
BREC at 740-379-9656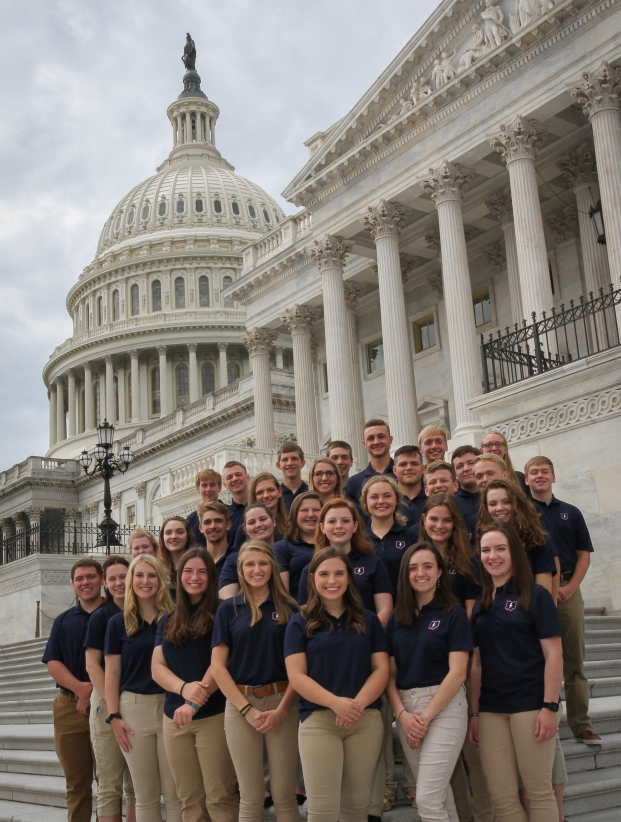 The annual Electric Cooperative Youth Tour to Washington, D.C., takes places June 19–25 and is a National Rural Electric Cooperative Association (NRECA) leadership program coordinated in Ohio by Ohio's Electric Cooperatives. It's an all-expenses-paid trip that gives exceptional sophomore and junior high school students (children of BREC members) the opportunity to travel as a group with other students from Ohio's cooperatives. They will see many of the well-known Washington sights, meet with their congressional leaders at the Capitol, and interact with other participants from across the country. It is an experience deeply rooted in the history of electric cooperatives.
Youth Tour will explore the leadership lessons of our nation's history and immerse students in the cooperative spirit. Besides that, students will have fun and make new friends! BREC will be selecting two individuals. To apply, visit our website at www.buckeyerec.coop/youthtour. Don't miss out on this wonderful opportunity!
Thaxton Salyers of Symmes Valley High School was selected by Buckeye REC for the 2019 Youth Tour. Thaxton, of Patriot, was one of 31 students from the state of Ohio — and 1,833 students from electric co- ops across the country — who participated in Youth Tour. To say he enjoyed his time on Youth Tour is an understatement. Thaxton had such enthusiastic and positive comments about his opportunity!
"I would like to start by saying thank you, to every single member and employee of this great cooperative. Because they are the ones that gave me the opportunity to have such a life-changing experience. Thank you, however, really does not have the effect I need it to have. It's just the tip of the iceberg for how grateful I am that I was able to partake in this experience. I met people from forty plus states, met senators and house members, sat in the House of Representatives, and saw the Supreme Court and the Capitol Building. When people ask me about my trip, I talk about the insanity of how well cooperatives around the country work together to make things like Youth Tour possible. The friendships I made will last a lifetime. " 
-Thaxton Salyers