DEADLINE EXTENDED to February 15, 2020
Buckeye Rural Electric is proud to present the following scholarship to its members. Please look over the materials to determine eligibility, and submit the application following the instructions provided.  Thank you all, and good luck!
All applicants must be a high school senior who resides with parents or legal guardians who are members of the cooperative.  Other minimum requirements must be met.  Read the rules carefully.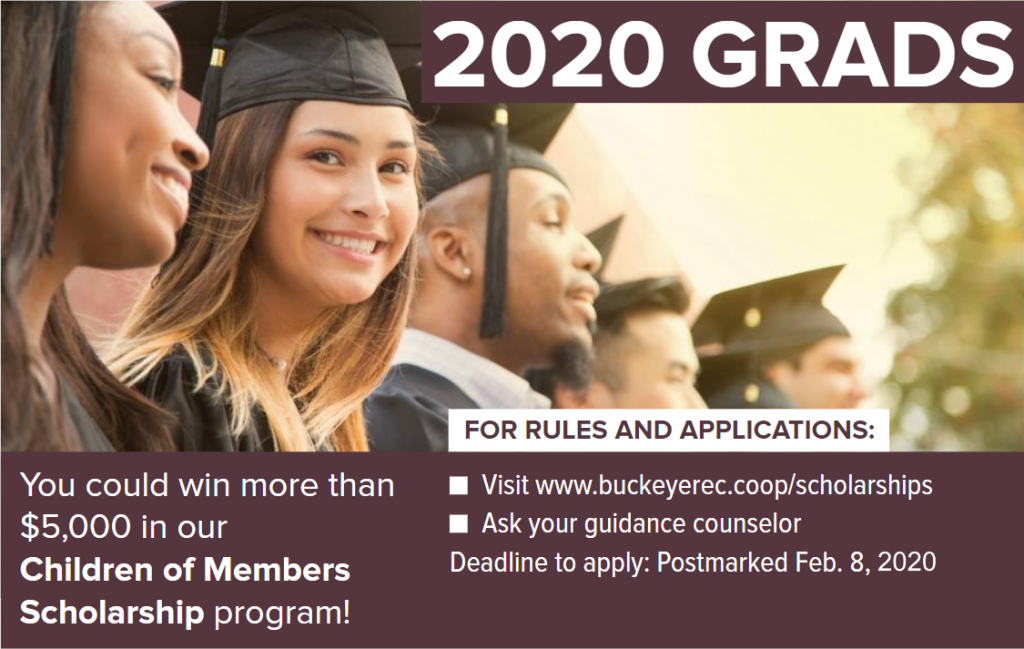 Scholarship  Instructions
If you do not have Adobe Reader software, it is a free download available here: https://get.adobe.com/reader/. (If you do not want to install McAfee Security Scan Plus and True Key™ by Intel Security, uncheck their  boxes prior to downloading.)
Open the application file using Adobe Reader, and save it.
Complete the first two pages using Adobe Reader.
Save the file again, then print all pages.
Take the application to a teacher and your guidance counselor to complete the faculty portion. It is preferred those sections are typewritten; however, they may be handwritten if necessary.
Applications and letters of recommendation for Buckeye Rural Electric Cooperative, Inc.'s scholarship competition must be postmarked by

Saturday

, February 8, 2020

FEBRUARY 15, 2020

. Applicants will receive additional information in the mail after the deadline date. Scholarship interviews will be held on Friday, February 28, 2020

Scholarship Rules
PURPOSE:
In order to carry on an educational and training program that encourages Ohio's rural youth to further their education and gives them an opportunity to become more aware of careers in the rural electric program, the following scholarship awards programs are offered by Buckeye Rural Electric Cooperative (BREC) and Ohio's Electric Cooperatives, Inc. (OEC).
The local BREC cash scholarship awards are as follows:
| | |
| --- | --- |
| First place | $1,500 |
| Second place | $1,200 |
| Third place | $800 |
One finalist winner of the local BREC scholarship will advance to the OEC statewide level and must be available to interview on April 15, 2020 in Columbus, OH. Statewide finalists will compete for additional scholarships that will be awarded at the statewide level.
The OEC statewide cash scholarship awards are as follows:
| | | |
| --- | --- | --- |
| Place | Prize | Honorable Mention Prizes |
| First place | $ 3,800 | 11th                                   $ 1,400 |
| Second place | $ 2,800 | 12th                                  $ 1,400 |
| Third place | $ 2,300 | 13th                                   $ 1,400 |
| Fourth place | $ 2,200 | 14th                                   $ 1,400 |
| Fifth place | $ 2,100 | 15th                                   $ 1,400 |
| Sixth place | $ 2,000 | 16th                                   $ 1,400 |
| Seventh place | $ 1,900 | 17th                                   $ 1,400 |
| Eighth place | $ 1,800 | 18th                                   $ 1,400 |
| Ninth place | $ 1,700 | 19th                                   $ 1,400 |
| Tenth place | $ 1,600 | 20th                                   $ 1,400 |
| | | 21st                                   $ 1,400 |
| | | 22nd                                   $ 1,400 |
| | | 23rd                                   $ 1,400 |
| | | 24th                                   $ 1,400 |
RULES:
To be eligible for the OEC scholarships, the following provisions will govern the acceptance of applicants from the local cooperatives:
1. Applicants must be the child or legal ward of a permanent residential electric cooperative member receiving service for the duration of the 2019-2020 academic year (August 2019 - June 2020). Children/wards of electric distribution cooperative commercial members are not eligible unless their parents are also permanent residential electric cooperative members.
2. Applicants must be graduating seniors who have all basic credits for college or proper vocational or technical school entrance. A "proper vocational or technical school" is defined as a post- secondary institution where credits can be transferred to a state accredited four-year college.
3. Applicants in both divisions must have a cumulative grade point average of 3.5 or above on a 4.0 scale or an equivalent standing on a nontraditional scale.

Winners must be accepted and then enrolled in an accredited college or proper vocational/technical school of students' choice when they receive the award. Winners who are accepted and then enrolled in an accredited school of nursing, working toward a degree, are also eligible.
4. Students may not be immediate family members of, or reside with, people who are employed by any electric cooperative in Ohio (employees, trustees, managers, OEC, or affiliated organizations such as Buckeye Power, Inc., RESCO, etc.).
5. Applications must be submitted (typed to be accepted) on forms furnished by and submitted to Buckeye Rural Electric Cooperative, Inc. Cooperatives will choose one finalist to advance the state level. Applicants who have not submitted applications to their local cooperative by its deadline will not be eligible to compete at the state level.
6. Application information must be confined to the official nomination form with only grade transcripts, teacher recommendations, and a recent photo attached. Teacher recommendations must be no longer than 500 words.
7. Applicants who receive "full-ride" scholarships (i.e., scholarships that cover the cost of tuition, room, board and books) to the schools of their choice are not eligible for scholarships from OEC. Applicants who win an OEC scholarship and subsequently receive a full-ride scholarship following the Children of Members scholarship competition, must contact OEC immediately to forfeit this scholarship.
8. All scholarships must be accepted in the first academic year after proof of enrollment is received by OEC. However, an extension of one year may be granted for just cause in the judgment of the president of OEC. In the event students are unable to fulfill their enrollment obligation under this program, the awards are forfeited.
9. Finalists are not permitted to bring any outside materials to their interviews (e.g., electronic presentations, props, handouts, etc.).
10. Finalists who have won other scholarships from OEC or affiliated organizations in other scholarship competitions (not including local co-ops) are not eligible to compete this competition.
11. These rules (dated hereon) supersede all previous rules for this scholarship.
JUDGING:
The judges, following personal interviews with each nominee, will score up to a maximum of 40 points for scholastic record, 30 points for personal achievement, school and community activities, 15 points
for personal interview with the judges relating to poise, personality and appearance, and 15 points for cooperative knowledge.
Cooperative knowledge questions will be based on the Online Orientation course located at www.ohioec.org/orientation. Students are recommended to complete this course prior to judging. The course takes approximately one hour to complete.
LOCAL SCHOLARSHIPS AND AWARDS CRITERIA:
All co-op applications advanced to OEC must meet the OEC criteria.
MAIL OR DELIVER THE APPLICATION AND ATTACHMENTS TO:
Buckeye Rural Electric Cooperative, Inc.
4848 SR 325 S. PO Box 200
Rio Grande, OH 45674-0200
Attn: Scholarship Coordinator
Or, scan completed applications and attachments, and email them to:
If you are interested in this scholarship, please see the application below: