Buckeye Rural Electric is proud to present the following scholarship to its members. Please look over the materials to determine eligibility, and submit the application following the instructions provided.  Thank you all, and good luck!
All applicants must be a high school senior who resides with parents or legal guardians who are members of the cooperative.  Other minimum requirements must be met.  Read the rules carefully.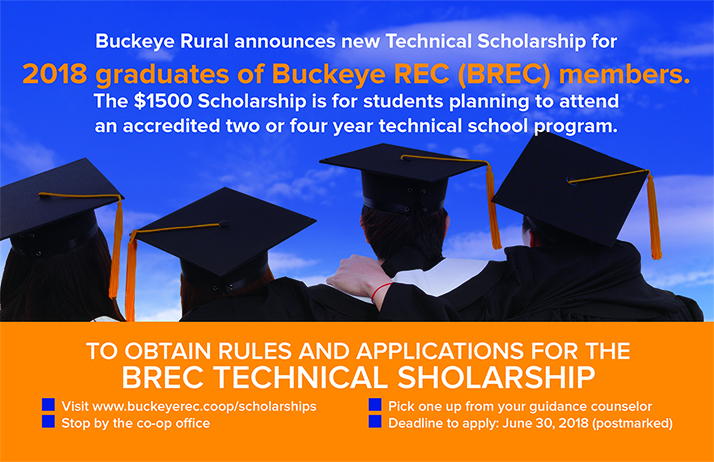 Buckeye Rural Electric is proud to present the

NEW

Technical Scholarship:
For the first time, Buckeye Rural (BREC) will be offering a $1,500 Technical Scholarship to assist the children of cooperative members in their pursuit of a degree in technical training. To be eligible, students must be planning to attend an accredited two or four year technical school program.  They must also meet minimum scholastic requirements, provide a letter of recommendation, and complete an application with two brief essays. The BREC Technical Scholarship application form and complete rules are provided below. All qualified students will be judged by the following criteria: scholastic record, personal achievement, school and community activities, and their written essays. Judges may give priority to fields of study deemed more relevant to electric co-ops.
DEADLINE: Applications  must be postmarked by June 30, 2018.
The candidates will be evaluated initially by their scholastic record  and personal achievements/school & community activities. After finalist are selected, the judging process will include a personal interview and test students' knowledge of cooperatives. In 2018,  Buckeye REC plans to offer a new Technical Scholarship  for students pursuing  an education in a trade school/program. Details will follow at a later date.
The judging process will also include the students' knowledge of cooperatives, based upon on the Online Orientation course located at https://ohioec.org/orientation/.
Mail or deliver the application to:
Buckeye Rural Electric Cooperative, Inc.
4848 SR 325, P. O. Box 200
Rio Grande, OH 45674-0200
Attn: Scholarship Coordinator