Buckeye Rural Electric is proud to present the following scholarships to its members. Please look over the materials to determine eligibility, and submit the application following the instructions provided.  Thank you all, and good luck!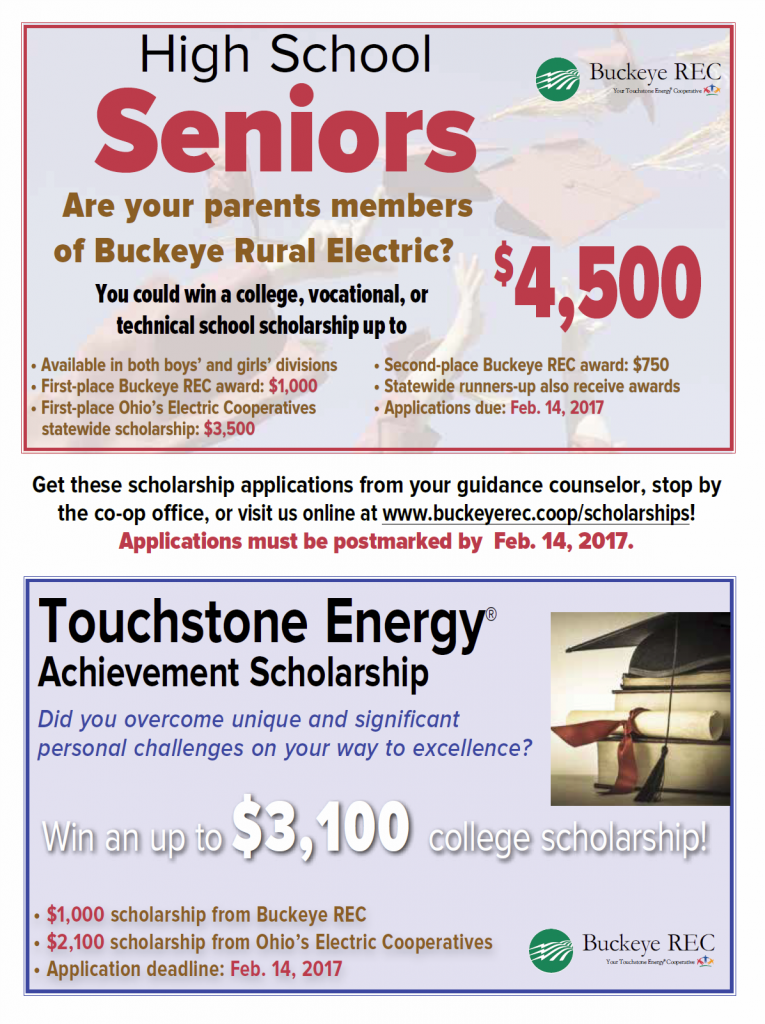 Buckeye REC is pleased to offer two categories of scholarships for 2017, "Children of Members Scholarship" and "Touchstone Energy Achievement Scholarship".  This year's "Children of Members Scholarship" on the Buckeye REC local level in both boy and girl categories include first-place, $1,000 and second place, $750.  This is a total of 4 possible awards locally, two for boys and two for girls.  First place winners will compete for the Ohio's Energy Cooperatives (OEC) awards.  The "Touchstone Energy Achievement Scholarship" has been created to reward those students who have committed themselves to the pursuance of a college education despite unique and substantial personal challenges which may have befallen them. A $1000 local scholarship is offered. A "Letter of Recommendation", as well as a "Letter of Nomination" from a second independent sponsor is required.  There are guide sheets for these letters included in the Scholarship instructions and should be provided to those "nominating and recommending". Students must apply for the local Buckeye REC scholarships to qualify for the statewide scholarship competition.
On the Ohio's Electric Cooperatives (OEC) state level, in both boy and girl categories for "Children of Members" the awards are $3,500, $2,500, $2,000, $1,900, $1,800, $1,700, $1,600, $1,500 and $1,400– first through ninth place, for a total amount awarded of $34,900. This is a total of 18 possible awards, nine for boys and nine for girls.  For the "Touchstone Energy Achievement Scholarship" finalists will compete for up to six $2,000 scholarships that will be awarded at the statewide level.
All applicants must be a high school senior who resides with parents or legal guardians who are members of the cooperative.  Other minimum requirements must be met.  Read the rules carefully.
Applications and Rules are found at buckeyerec.coop/scholarships. The first two pages of each application can be filled in online before printing.
All nomination forms must be returned to Buckeye REC, Inc., Attn: Scholarship Coordinator, P. O. Box 200, Rio Grande, OH  45674-0200.
DEADLINE Applications must be postmarked by February 14, 2017. Scholarship interviews will be held at our offices in Rio Grande on or near March 2, 2017. Applicants will receive additional information prior to that date.
The judging process will also include the students' knowledge of cooperatives, based upon the booklet "The Cooperative Difference".
Mail or deliver the application to:
Buckeye Rural Electric Cooperative, Inc.
4848 SR 325, P. O. Box 200
Rio Grande, OH 45674-0200
Attn: Scholarship Coordinator