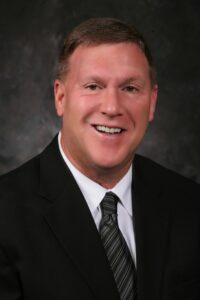 Patriot, OH – Buckeye Rural Electric Cooperative has selected its new leader, Kent Eldridge, who has been serving as the co-op's interim CEO since January 1, 2023. The board of trustees made its choice in its monthly board meeting January 30.
"I'm honored to serve the members of Buckeye Rural Electric Cooperative. It's my hope, that along with our exceptional employees, we can continue to make a positive difference for our members and southeastern Ohio," said Eldridge.
Kent Eldridge has served as Buckeye's Vice President of Member Services since 2015. He has been a proud member of Buckeye REC for more than 25 years. Kent is a native of Kentucky and graduate from Morehead State University, where he met his wife, Kristy, a Lawrence County native, and schoolteacher. They have two sons, Kaleb, and Jacob, along with their wives and four grandchildren. Kent has nearly 40 years of experience in the electric utility industry. The first 20 years of his career began in 1981 with AEP, in the Marketing & Customer Services department, including positions as Power Engineer and National Accounts Executive. One of his favorite experiences was serving as a bi-vocational Youth Pastor for six years, ending in 2018.