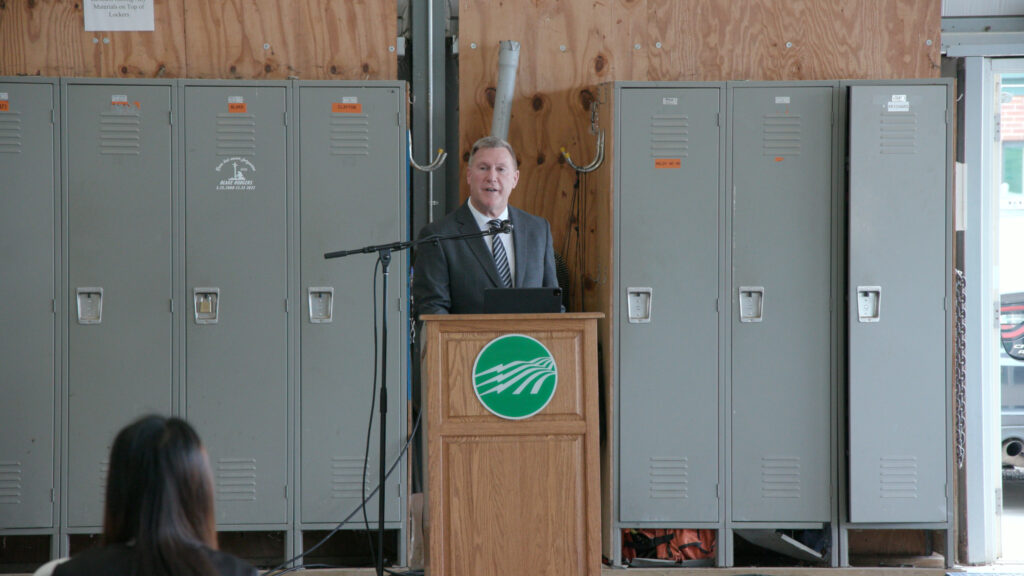 PATRIOT, Oh- Buckeye Rural Electric Cooperative's 2023 annual meeting was held on Saturday, August 12, 2023 at its home office in Patriot, Ohio.
Paul Berridge, BREC Board President, welcomed attending members to the first in-person annual meeting since 2019, when the COVID pandemic hit out country. Those attending participated in a scaled-back, business-only version of the meeting, as part of cost saving measures.
Pat O'Loughlin, President and CEO of Ohio's Electric Cooperatives provided a statewide video update. He reassured co-op members that although we are seeing spikes in our electric bills, Ohio co-ops are doing everything to keep costs as low as possible. Our commitment to provide reliable services to our members remains top priority even while facing political challenges that negatively impact Ohio.
"As recently as 2009, Ohio had 21 coal fired power plants, capable of producing over 22,000 MW. By the end of this year, we will have four remaining plants and less than 7,000 MW. Many of the plants that closed had recently completed major environmental upgrades, only to be met with another series more challenging and expensive environmental requirements. Some of these plants have been replaced with modern, natural gas power plants and large solar installations, but we have greatly reduced our capability to produce electricity especially severe cold weather like we experienced this past Christmas." O'Loughlin goes on to say, "During December 23-25 all emergency steps available were used, and stopped just short of a rolling blackout to stabilize our regional power grid. The integrity of our national and regional electric grid is at risk and will only get better if we make a change in course. Reliable, affordable and environmental responsible power is our commitment to you and you should expect it to be our government's commitment to you as well"
Kent Eldridge, who began his role as CEO in 2023, reported on the challenges and highlights for the cooperative in 2022. Last year, BREC collected $43.5 million in revenues from distributing electricity to cover operating costs, contractual obligations and then return the remainder to our members through an allocation to their capital credit account based on electric service patronage for the year. In 2022, BREC generated excess margins of over $1.2 million, which were allocated to members capital credit accounts based on their electric service patronage during the year.
Eldridge provided an update on the ARC (Appalachian Regional Commission) Fiber grant secured in 2019. This project is construction of a "middle-mile" fiber backbone through unserved and underserved areas of the BREC service territory. This will allow the cooperative to improve service reliability, security and utilization of our substation technologies by providing them with fiber while allowing new partnerships with Internet Service Providers (ISP's).  Those ISPs in turn can provide "last-mile" service to connect homes and businesses to high-speed internet. The ARC grant will provide about 70% of the total project cost. Construction is currently underway.
An update was also provided on the Ohio EMA (Emergency Management Agency) grant that was awarded after the devasting ice storms in 2021 that left nearly 8,000 members in Lawrence and southern Gallia County without power and water for days. The cooperative was selected to receive over $9 million as an Ohio EMA grant for damages sustained during the ice storm. Of that total, $3 million is being spent on the ice storm restoration costs and an additional $6 million for rebuilding, strengthening and restoring our heavily damaged system. The cooperative will provide 25% of the cost and the project is targeted for completion by January 1, 2024.
Eldridge ended with "I am very optimistic about the future of the cooperative. We have great staff in place and new projects that will bring more conveniences the lives of the members we serve."
Established in 1938 to bring electric power to rural populations via the Rural Electrification Administration, now known as the Rural Utilities Service, Rio Grande-based Buckeye Rural Electric Cooperative provides energy to more than 18,000 homes and businesses in Athens, Gallia, Jackson, Lawrence, Meigs, Pike, Ross, Scioto and Vinton counties.